How To Measure Your Bangle Size
The chart below will be extremely helpful for you to determine the bangle size that you need. To measure your hand, you will need a measuring tape or a piece of paper and a ruler.

Method 1 : Measure around the widest part of your hand
1. Close your fingers together and bring your thumb to your little finger.
2. Use a strip of paper or a rope, wrap it around your hand at the widest point, mark the spot where the thread meets,This will be the circumference of your hand.
3. Then measure the length of the paper with your ruler.
4. Use the chart to choose the correct bangle size based on the circumference. Purchase a bangle that is one size up from your wrist size.

Method 2 : Measure your wrist with measuring tape
With measuring tape, measure the inside of your wrist, horizontally from one end to the other.
Allow extra 2-2.5cm (¾ tp 1 inch) for better estimation of the right size you need to fit beads in comfortably.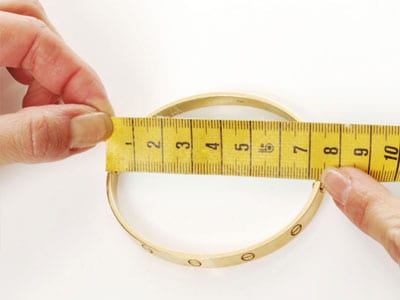 Method 3 : Measure with your own bangle
Alternatively if you have a bangle that fits you perfectly already, then measure the inside diameter. Use the size guide to select the correct size bangle.
1. Take a Bangle you already own and place it on a scale
2. Measure the inner diameter
3. Use the following chart to determine your bangle size
Determine Your Size By Chart
Here is chart that can be considered in determining the appropriate bangle size. Measure the inside diameter of a bangle that you already own. It measures inside the diameter of such bangle in millimetres. This is normally used for double checking your results from the usual paper method. Apart from this, you can also make use of the bangle that you wear daily and cross check the same with below chart.

| | |
| --- | --- |
| Size | Bangle Circumference |
| 135 | 15.5cm |
| 140 | 16.0cm |
| 145 | 16.5cm |
| 150 | 17.0cm |
| 155 | 17.5cm |
| 160 | 18.0cm |